A Helpful Message to Prospective Landscaping Clients
There is a spectrum of focus when it comes to your Arvada, Colorado area landscape investment. Motivations range from:
Return on investment (ROI)

Quality of life

Health and wellness

Mental health and wellness

Retreat and recharge from our busy lives
An investment in a new landscape can be based on ROI; however, for most of our clients, it's only part of the consideration. 
Think of planning a vacation. Most of us envision our experience long before we start looking at flights and accommodations. We think of the moments that might take place and what a beautiful adventure it will be. Unconsciously, these thoughts create the framework for decisions you will make about your vacation. You may find a flight that is 40% cheaper but has a 2-hour layover and is known to have uncomfortable seats. For some, taking that layover flight is a no-brainer. Others, envision that day as a challenging experience and opt to pay extra to stay aligned with their "grand vision". This process continues throughout all of your vacation planning.
In landscape design and construction, the process is the same. Usually long before we get a call or email to have someone come out to discuss the project, the prospective client has given lots of thought to what an experience could be in their outdoor space. We come out and meet with the prospects. They are so excited to discuss ideas of what things could be and so nervous about what things may cost. After the conversation they may look at the designer and say "now after everything we've given you, do you have a rough idea of what things might cost? I won't hold you to it." The designer looks like they saw a ghost and either say they aren't sure without doing some design first, or they take a guess that shoots everyone in the foot. The reason for this is that there is so much price room for each and every item. A patio in one material could be $30k less than another. A fireplace could be $20-25k at a certain size and material. It could be 40 feet tall and specified with a certain stone, coming in around $75k. The designer feels pressure to not string you along and give you no information but also doesn't want to underestimate the project and shock you later or overestimate the project and scare you. 
So here we are. How do we give you a foundation of cost to think about without being too general or too specific? How do we give you some knowledge to digest that doesn't crush your dreams or give you false hope and waste your time? I've decided to frame our landscape pricing guide around two things; an FAQ that is focused on common questions we receive during consultations, cost percentages of home values and what that might get you in a holistic summary. These are obviously based on averages and each home has a drastically different personality, objectives, and site challenges. 
 Hope to work together!
 - Jon LeDuc (President of Landscape Design and Construction)
Landscape Design: $1,500-3,000+
A professional landscape design gives you a clear vision of what will be accomplished on your property. After an in-depth consultation and site assessment, we create 2D blueprints (and 3D renderings as requested) using the industry's most advanced design software to help you better visualize your landscape. These plans include specific construction details that allow us to make accurate proposals and limit the risk of error and oversight during the construction process.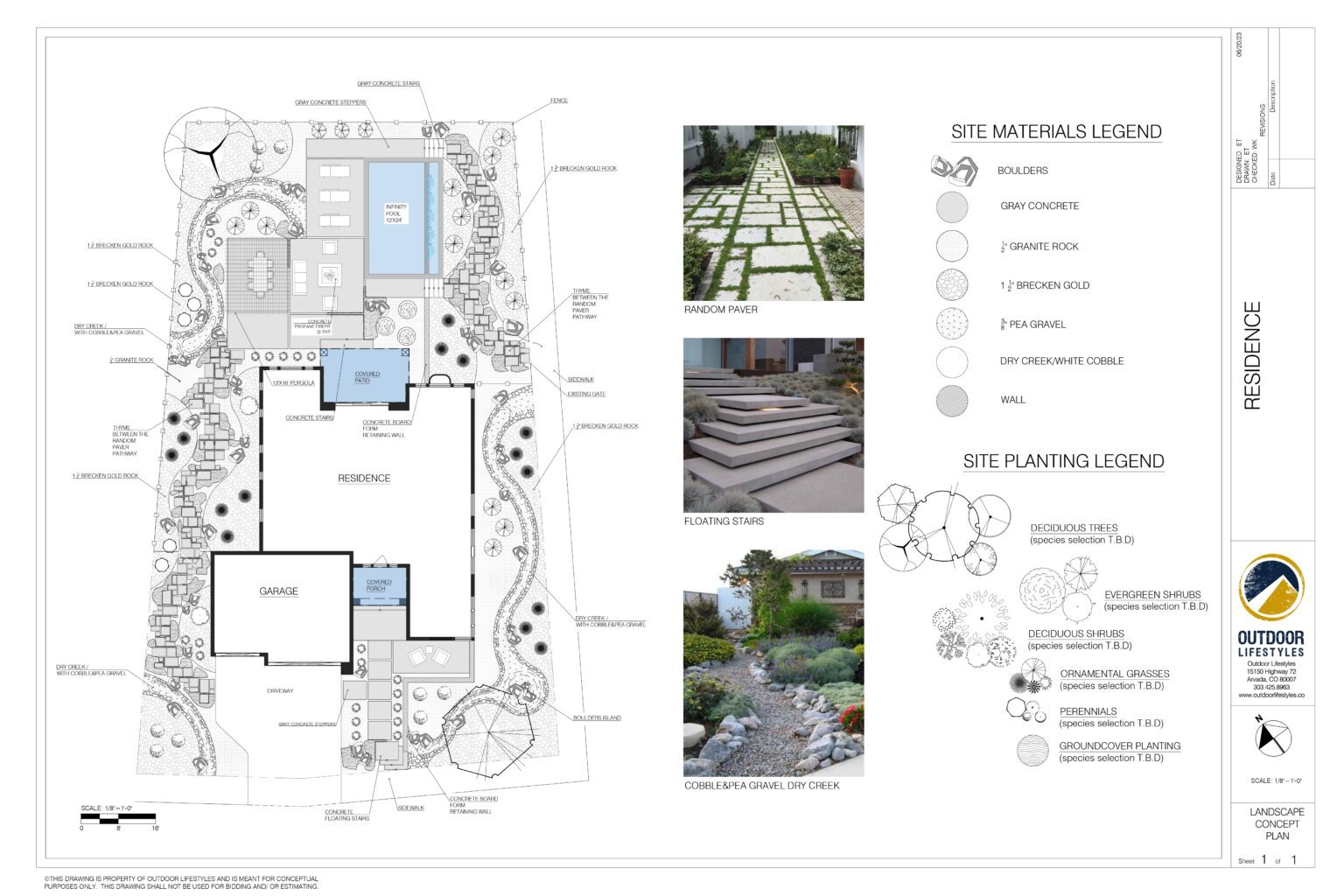 Frequently Asked Questions
Find Out Why People Keep Coming Back to Outdoor Lifestyles
Trust doesn't come easy in this world. We encourage you to read our customer testimonials to learn why they trust us for all their landscaping needs.
Stunning Landscapes to Inspire Your Own Outdoor Dreams
The professional results of our work speak for themselves. Immerse yourself in great landscaping ideas on our Portfolio page. You're sure to see something that will inspire your upcoming project.
Holistic Project Summaries
Based on a percentage value of the home
This is typically a scope-focused project. For example a new patio extension, a water feature area, a plant enhancement throughout the spaces, a new pathway, or something along those lines. It can have a high impact in terms of before-and-after but is typically pretty focused.
A nice focused project, like a new outdoor living space with accessories, or a full backyard renovation with simpler finishes, such as a designed concrete patio, new irrigation, plants, and lawn. 
Similar to the 10% summary with more accessory options and/or nicer materials.
Get a really cool, focused element like a pool cabana, or a neat pool area. This could also get you a very solid backyard design with a bit of compromise. For instance, you may have to scale down the fireplace to a firepit and make the water feature a bit smaller than the original plan. Your friends and family are none the wiser!
Similar to 20% but with more options and material flexibility. 
Get an incredible space like a pool area loaded with function and interest. You could get a multi-dynamic outdoor living space. With this amount of investment, your home will be the most memorable house in the neighborhood. People in the area will refer to your house because they are aware of it and its beautiful landscape. This tier gets to play with custom elements. 
35%-50% + Investment Summary
Your new landscape will be loaded with elements such as a pool/spa, kitchen, water feature, and fire element. Budget is definitely a factor, but experience and design are your most important motivation. Typically, projects like this bring home elements of the homeowners' favorite resorts. Designers have a lot of creative freedom here.
Demo/grading - Depends on your unique site

Water features - $15k-50k+

Gas fire pits - $7,500-15k+

Fireplaces - $20k+

Pools - $75k-150k+

Kitchens - $15k-50k+

Irrigation systems - $5k-25k+

Planting budgets - $5k -50k+

Living spaces - $25k-100k+

Sod and ground covers - plus or minus $2.50/square foot
Our Landscaping Company Proudly Serves Residential and Commercial Customers in the Greater Denver Area
We are a local company with big hometown values of honesty and hard work. Outdoor Lifestyles is based in beautiful Arvada, CO and we extend our services to a wide region of this area, including:
Go to our main service area page for more information about who we serve.
Make Landscaping Your Career
Work with a great landscaping team! If you're looking for an outdoor career with competitive wages and an emphasis on quality work, we encourage you to contact us. We'd love to hear from you.
Let Us Know if You Have Questions About Our Landscape Pricing
A lot of factors go into landscape pricing, which can make it a bit overwhelming. We're here to help you understand every aspect of your landscaping project in the Arvada, Colorado area. Contact us to get started! We begin with a consultation during which we discuss your ideas and your budget.