Snow and Ice Management to Get Your Business Through the Winter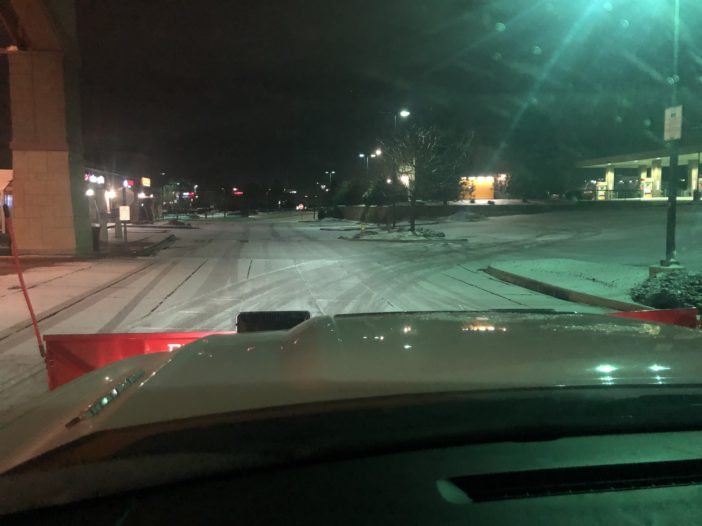 A snowstorm can derail your daily business operations. If customers, employees, and visitors can't comfortably approach your front door, they may simply go elsewhere. A clear, safe sidewalk or parking lot speaks to your attention for detail and how you care about your clients and your team. That's why it's essential to have an experienced commercial snow removal company on your side this winter—and every winter—in Golden, Colorado. 
At Outdoor Lifestyles, we work with local business to ensure your sidewalks, parking lots, and driveways are usable, no matter the weather. We have a skilled team and a fleet of specialized, well-maintained equipment to tackle every snow plowing and de-icing task, and we'll be there after every storm to minimize the impact of that storm on your business. Keeping your property safe and usable throughout the winter months is your responsibility as a business owner or a property manager, but that doesn't mean you have to do it yourself. 
As a commercial snow removal company, we're dedicated to responding quickly to your snow removal needs, and we make detailed, customized agreements with our clients to ensure you get the service you need this winter. Take steps now to mitigate risk on your property and create a positive experience for your clients and visitors. Partner with a snow removal company that will treat your business like their own. Give us a call or fill out our contact form to learn more.
Find Out Why People Keep Coming Back to Outdoor Lifestyles
Trust doesn't come easy in this world. We encourage you to read our customer testimonials to learn why they trust us for all their landscaping needs.
Why Work With Outdoor Lifestyles
We offer precise, attentive service after every snow event, and we'll be there when you need us to shovel, plow, blow, and melt any snow or ice that gets between your business and your customers and employees. This is what we can do for you in Golden, Colorado, and anywhere in the west Denver area. 
Specialized, well-maintained equipment

A highly-trained and experience snow removal team

Ice melt for driving and walking surface

Snow plowing and shoveling to clear sidewalks, parking lots, driveways, and other spaces

Reliable service throughout even the snowiest, coldest winters

Detailed contracts so you know what to expect

Safety as a priority in all the work we do

Full-service landscaping to keep your property at its best in all seasons
Let winter bring its best. We've got it handled. Fill out our contact form today to customize your commercial snow removal program. 
Take a Peek at What We've Been Up To
We care about all our commercial customers. We truly want your property to look its best. That's why we put so much effort into meeting your expectations for whichever landscaping service you need. Check out our portfolio to see firsthand the results of our amazing landscape transformations.
How We Exceed Expectations Throughout the Year
We value our customers and their landscaping ideas. To begin and maintain our relationship with each customer, we have developed a proven process that gets the ball rolling and keeps it moving throughout every project or package. Find out how Outdoor Lifestyles makes great landscaping easy to obtain.
Trust Outdoor Lifestyles to put you first on every landscaping project. We build landscapes, patios, and outdoor dreams, but first and foremost, we build quality relationships.
A Full Range of Commercial and Residential Landscape Design, Installation, and Maintenance Services
We take pride in high-quality snow removal work. We also do great work with landscapes! No matter what season it is, the Outdoor Lifestyles crew is outside, keeping properties well-maintained, or transforming them into something spectacular. Our company works on both commercial and residential properties. Take a look at these landscaping services available in Lakewood and surrounding areas:
Our Landscaping Company Proudly Serves Residential and Commercial Customers in the Greater Denver Area
We are a local company with big hometown values of honesty and hard work. Outdoor Lifestyles is based in beautiful Arvada, CO and we extend our services to a wide region of this area, including:
Go to our main service area page for more information about who we serve.
Your Landscaping Career Starts Here With Year-Round Positions and Competitive Pay and Benefits
Work with a great landscaping team! If you're looking for an outdoor career with competitive wages and an emphasis on quality work, we encourage you to contact us. We'd love to hear from you.
Customize Your Snow Removal Program Today
Coloradoans love to love Colorado, and for good reason—but owning a business here is not without its challenges, and winter can be one of them. Ease your mind this season by working with a professional commercial snow removal company to ensure your sidewalks and parking lots are safe, clear, and usable for your customers and employees. Contact us to learn more about our snow and ice removal services in Golden, Colorado, and customize a snow removal program that suits the size and shape of your property, your business hours and foot traffic, and more.